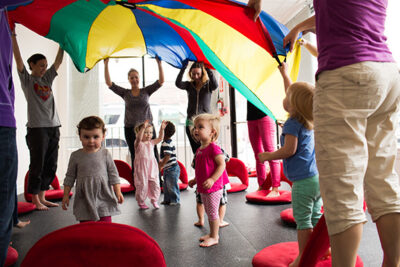 04 Apr

Welcome to TLC Developmental Play & Parenting Classes

The Loved Child's Developmental Play & Parenting classes have an organized and set weekly class curriculum that equally supports the development of both children and their caregivers. All families enrolled in these unique classes will receive the TLC Newsletter in advance of class.  The TLC Newsletter will include helpful family-friendly information and resources including the:
Developmental Focus (e.g. cognitive, language, gross/fine motor & sensory development etc.)
Suggested Parenting Topic (positive discipline, healthy family sleep, temper tantrums, picky eating, toilet training, sibling challenges etc.)
Take Home Ideas (fun activities for home to reinforce class learning)
Although it is not required that caregivers review the TLC Newsletter before each class, we strongly encourage taking the time to read the suggested readings- everyone in your family will benefit from your strong foundation in parenting and child development/behavior. In addition to the TLC Newsletter, supplemental readings and resources will be added throughout the semester and shared on The Loved Child's Facebook page:(www.facebook.com/thelovedchild).
Supporting the abundant research on the importance of early literacy experiences, on the first day of the semester, each child will receive a copy of the class TLC Book. Our hope is by providing a developmentally appropriate book to each child we are sending a compelling message to TLC families: repetition is essential in early learning. Please create at least one moment everyday- preferably around the same time- when you snuggle up and share the class TLC Book.
A couple more important details to share about The Loved Child, LLC:
TLC Parking Information: Free parking is easily located on Belmont Street and the side streets surrounding The Loved Child center. In addition there are a few off-street parking spots available next to the entrance- please make sure NOT to park in the spot that is marked "Tenant Parking Only". When attending evening programming at TLC, please park on the street (not in the parking lot).
TLC Sick Policy: Please use your best judgment and take care of yourself and/or your little one(s) at home if you or your child(ren) have had a fever, vomiting, diarrhea, and/or conjunctivitis within the last 24 hours.
TLC Make-up Class Policy: Attempting to be very family-friendly, please feel free to make up ANY missed classes due to illness and travel. There are no limits in make-ups although it is necessary to send us an email to let us know which class you plan to attend in place of your regular weekly class(es). To schedule a missed class, please look at the TLC Class Calendar.
TLC Food/drink Policy: NO food/drink allowed in class due to life-threatening known allergies in the TLC community. Of course, nursing and bottle feeding welcome!
TLC Weather Policy: TLC will follow the Belmont Public School closings
Please print out, review, and sign the TLC Waiver before attending your first TLC class.