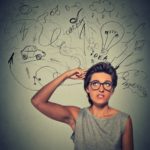 Are you overwhelmed by the amount of stuff in your home? If so, you're not alone. The average American home contains 300,000 items and research shows that the excess stuff creates stress, especially for women. If you're tired of feeling like all you do is manage stuff, this workshop is for you.
Our facilitator, Sarah Brooks, spent almost a decade as a professional organizer, helping people get rid of and organize their stuff so they have more time, space and energy for what matters. She's also a mom of 3 and homeowner, so she gets it – this can feel like a never-ending battle. During the workshop, she will share with you some simplification strategies that will help you move from overwhelmed to organized. You'll talk about where to start, how to let go and more importantly, how to stop the stuff from taking over again. You'll also touch base about getting your family on board, holidays, digital clutter, and staying on track. You'll walk away motivated and empowered to begin living with less in a culture of more.
Facilitator: Sarah Brooks
Date: Wednesday, April 10th, 2018 7:00 – 9:00 PM
| | |
| --- | --- |
| Participant Ages | Parents/Caregivers Only |
April 10th


April 10, 2019




7:00 pm - 9:00 pm
Address:
173 Belmont St.
,
Belmont
,
Massachusetts
,
02478
,
United States
| | |
| --- | --- |
| Participant Ages | Parents/Caregivers Only |