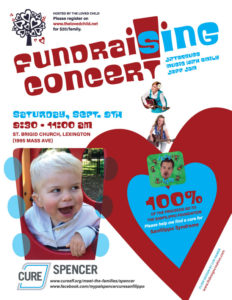 Please join us on Saturday, September 9th from 9:30 AM- 11:00 AM for the first annual FundraiSING Concert for Spencer! Come sing, dance, and clap with the following popular Boston-area entertainers for young children: Karen K. & The Jitterbugs, Music with Emily, and Jeff Jam. This joyful event will also offer face painting, arts & crafts, sensory activities, and snacks & drinks. 100% of the proceeds will go to the Cure Sanfilippo Foundation. To learn more about Sanfilippo Syndrome, please click HERE and be sure to visit Spencer's Facebook Page.
Date: Saturday, September 9th
Time: 9:30 AM – 11:00 AM
Location: St. Brigid Church, 1995 Mass Ave., Lexington MA (There is a large parking lot in the back and please enter the event through the back entrance).
Questions? Contact: info@thelovedchild.net
FundraiSING Concert for Spencer!


September 9, 2017




9:30 am - 11:00 am
Address:
1995 Mass Ave.
,
Lexington
,
Massachusetts
,
02421