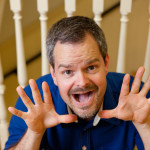 Age Range: Infant – 5 years & Caregiver
Instructor: Jeff Jam
Dates: September 21st – October 26th (6 weeks)
Time: Thursdays, 3:30 PM – 4:15 PM
Come sing, dance, clap, stomp, shake, wiggle, laugh and jump with Jeff Jam at The Loved Child after nap time! Children (0-5 years), with a caregiver, will enjoy playing a variety of percussion instruments such as shaker eggs, rhythm sticks, tambourines and jingle bells. And, as current research in child development has shown, as you and your child learn and move to popular classic children's songs, this musical experience will benefit all areas of your child's development! Each class is 45 minutes and limited to 12 families.
Notes:
Siblings under 6 months of age are free and do not need to be registered.
If registering for two children, please make sure to choose the appropriate ticket AND make sure to add the additional child's info at the bottom of the form. 
Please visit our Policies page to review TLC's class policies.
If the class session has already begun, please contact The Loved Child. If there is availability, TLC will pro-rate the class price.
October 26, 2017




3:30 pm - 4:15 pm
Location
Address:
173 Belmont St.
,
Belmont
,
Massachusetts
,
02478
,
United States