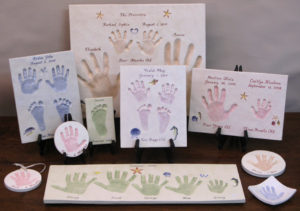 We do those wonderfully soft pastel baby hands and feet ceramic tiles you may have seen displayed in your friends' homes. We know a fair amount about babies and never tire of them! 
The pottery has been running for 47 years making floral and sea-life pieces.  About 25 years ago we were asked to try pressing a baby's hands and feet into a tile. Fabulous idea!  And we've gotten better.
People call us for an appointment at which time we do the paperwork or they signup online and we get the information that way.  At the event, parents check the paperwork for amendments and alterations, choose 3-5 little sea life or flower decorations, and we take about one minute to press in both feet and hands. Some babies loudly object, most are bemused and one or two babies have slept through.  With the paperwork done beforehand, you are finished in 10 minutes or so. You don't need to bring anything but your camera if you want pictures. We will have samples and sheets of the optional decorations with us. We do brothers and sisters on a tile, dogs, and their boys,  cousins, pretty much whatever fits on the clay slab.  No one is too old or too young. We've done 4 generations on one large tile. Many people are surprised at how much they love and are moved by the results. These tiles become treasured family heirlooms.
Seize the opportunity! Call us: 800 859 5028 or schedule an appointment now.  (Please register below to save your spot, but also call Salt Marsh Pottery or register online with them so they have your information!)
Dates:
Salt Marsh Pottery will be at TLC on the following Sundays, from approximately 10:15 – 12:15.
January 27th, 2019
April 7th, 2019
June 9th, 2019
September 15th, 2019
November 10th, 2019
| | |
| --- | --- |
| Participant Ages | Infant, Baby, Toddler, Preschool |
April 7th


April 7, 2019




10:15 am - 12:15 pm

June 9th


June 9, 2019




10:15 am - 12:15 pm

September 15th


September 15, 2019




10:15 am - 12:15 pm

November 10th


November 10, 2019




10:15 am - 12:15 pm
Address:
173 Belmont St.
,
Belmont
,
Massachusetts
,
02478
,
United States
| | |
| --- | --- |
| Participant Ages | Infant, Baby, Toddler, Preschool |